Greensburg, PA – After months of coordinating state and local officials, State Senator Kim Ward was on hand this morning when Pennsylvania D.E.P. inspectors, along with City of Jeannette officials served a search warrant on the former Jeannette Glass Corp. plant owned by Mr. Abe Zion.  The search warrant was issued by Magistrate Joseph DeMarchis after petitions were filed by both the City of Jeannette and the D.E.P. to search the property for environmental and safety hazards.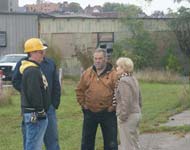 These search warrants were a result of a coordinated effort spearheaded by Senator Ward, to bring the City of Jeannette and the D.E.P. to a position where both were comfortable that they had enough probable cause to request the search warrant.
"Shortly after getting elected, I began working with city officials to get this blighted property cleaned up.  It has been both unsightly and unsafe for the residents of Jeannette," stated Ward.  "I am thankful that the D.E.P. was so cooperative with my office and the City in order to get to this point.  The goal is to document the environmental hazards and structural deficiencies on the site in an effort to get the owner to clean it up," she continued.
The warrant allows the agencies two days to examine the property and structures to perform proper environmental testing.  Additional time may be requested should they discover that environmental issues are evident.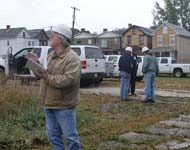 "This issue has hung around the city too long.  State and local government have tried for years to get the owner of this property to cooperate and take responsibility for his dilapidated property.  Jeannette has a right to gain control of its future by resolving the issues surrounding this property," said Ward.
Contact:
Tom Aikens – Communications Director
724-600-7002
taikens@pasen.gov
Scott Avolio – Solicitor for City of Jeannette
724-834-1002
scott@ablawsite.com