Harrisburg – State Sen. Kim Ward (R-39) today unveiled her proposed "Jennifer's Law" named after a Westmoreland County woman who was tortured and murdered.
Three men and three women have been charged in connection with the torture and stabbing death of Jennifer Daugherty, a woman with intellectual disabilities, in Greensburg earlier this year. Authorities say the crimes took place over nearly three days, with none of the defendants, acquaintances of Jennifer's, contacting police.
Jennifer's family was on hand as Ward announced legislation that would establish a legal obligation for witnesses of a violent crime to contact law enforcement.
"It is heartbreaking to think of what Jennifer went through, and the fact that one phone call to police might have put an end to these cruel crimes," said Ward.  "Sometimes society has to compel people to do the right thing. This legislation is aimed at preventing further tragedies."
The legislation would require the reporting of the violent crime to law enforcement officials immediately.  Failure to report the crime would be a misdemeanor of the third degree.  The individual would not be required to immediately report it if it would place the person in immediate physical harm.
"Over the course of 30-plus hours, six people had the opportunity to help my sister and nobody did. Legally they didn't have to," said Jennifer's sister, Joy Burkholder. "It seems wrong to me that you can be a spectator during a murder and not be responsible to intervene in any way. I know my sister is not coming back and we accept this. However, this law could and will save lives."
Ward also expressed her concern that housing shelters are not screening guests for criminal backgrounds. Jennifer met some of the defendants at a homeless shelter. One of the defendants in the case had a Protection from Abuse order against him.
"Since 1973, 11 states have enacted statutes requiring some form of aid or assistance when witnessing a violent crime," said Ward. "By making Pennsylvania the 12th state, we can make a statement in Jennifer's memory. We can say, 'The world may be cold, but we do not live in a heartless society. We do not look on while evil is perpetrated. We are better than that."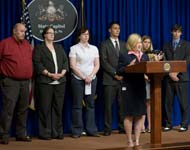 Contact:  Vicki Wilken
717-787-6063