Harrisburg – A group of lawmakers and advocates unveiled a bipartisan package of legislation today overhauling Pennsylvania's methadone treatment laws to increase fiscal accountability and safety, and reduce the unlawful use of methadone and methadone poisoning deaths.
Discussing their legislation at a Capitol news conference were Sen. Kim Ward (R-39), Sen. John Eichelberger (R-30), Sen. Mike Stack (D-5) and Sen. Don White (R-41). Also on hand was Marti Hottenstein, who helped found Helping America Reduce Methadone Deaths (HARMD) after the death of her son, as well as Sen. Elder Vogel (R-47), and Rep. Gene DiGirolamo (R-18).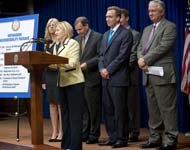 "The state methadone program is spending tax dollars for open-ended treatment with no accountability or oversight," said Senator Ward. "It's incredible that with so many lives – and tax dollars – at stake, no state agency has bothered to do an audit. I want to know what the state is spending and what it can do better."
The measures making up the Methadone Accountability Package address the illegal diversion of methadone from treatment uses; methadone use and highway safety; and accountability in government-sponsored treatment, including cost to taxpayers, open-ended treatment, overdoses and deaths.
Senate Bill 1293 — Requires reviews for all methadone-related deaths, and development of best practices to prevent future deaths. (Senator Stack)
Senate Bill 1294 — Creates the Methadone Addiction Prevention and Treatment Act, to provide for the safe use of methadone to treat heroin and other opiate addictions. (Senator Stack)
Senate Bill 1376 — Implements diversion control and dosing standards. ("Karl's Law" – Senator Eichelberger)
Senate Bill 1377 — Establishes clinic standards to prevent methadone-related highway accidents. (Senator Eichelberger)
Senate Bill 1378 — Makes it a crime to drive under the influence of more than the prescribed dose of methadone. (Senator Eichelberger)
Senate Bill 1382 — Requires a narcotic treatment plan with a one-year limit with an additional six months if progressing toward a full recovery. (Senator Ward)
Senate Bill 1383 — Requires individuals to receive methadone treatment at a clinic closest to their residence. (Senator Ward)
Senate Resolution 348 — Directs the Legislative Budget and Finance Committee to complete a performance audit of the state's methadone treatment and transportation program. (Senator Ward)
Senator Eichelberger noted that guidelines in Pennsylvania covering methadone clinics are found only in regulation.
"Pennsylvania's law has not kept pace with the changes in the prescription of methadone—and too frequently with deadly consequences," said Senator Eichelberger. "Methadone is a drug with its own unique properties. One pill or one dose can kill a non- or low-opiate-tolerant person. Even a day or two after the drug is taken, it has lead to fatalities for those who mix alcohol or other drugs."
The National Drug Intelligence Center reported a 109 percent increase in the unlawful diversion of methadone from 2003 to 2007. The National Center for Health Statistics found that, from 1999-2005, the number of poisoning deaths involving methadone increased 468 percent, and the rate of methadone deaths in younger individuals (age 15 to 24) increased eleven-fold.
The increase in methadone use and abuse has also affected highway safety. The National Highway Traffic Safety Administration found that a single dose can cause reductions in reaction time, visual acuity and information processing.
"Pennsylvania needs better laws to prevent methadone abuse and provide patients with the proper protections and treatment plans they need to achieve a lifetime of sobriety," Senator Stack said. "This package of bills is a solid step toward achieving those goals."
Senator White noted a new program that placed reasonable limits on the distance the Cambria and Indiana Counties Medical Assistance Transportation Program may reimburse Medical Assistance recipients for providing their own transportation to methadone treatment. He said the approach could serve as a model statewide.
"We are just starting to see the results of the new program, but indications are that both Indiana County and Cambria County will realize thousands of dollars in savings each year without reducing treatments or placing an undue burden on their clients," Senator White said.
CONTACTS:
(Senator Ward) Vicki Wilken vwilken@pasen.gov  (717) 787-6063
(Senator Eichelberger) Lee Derr  lderr@pasen.gov   (717) 787-5490
(Senator Stack) Elizabeth Rementer erementer@gmail.com  (717) 787-5166
(Senator White) Joe Pittman jpittman@pasen.gov  (717) 787-872